The list below includes all BSG Bred Heifers; we are offering the entire group for sale. This pen has been ruthlessly culled, and represents the cream of the 2022 calf crop. These gals all bring to bear structural correctness, body & volume, femininity, and breed improving EPDs and $Indexes. They also represent elite fertility – all but one bred on a timed-AI protocol! If interested, please contact Phil (765.886.5777) or Luke (765.993.6681) for a price list to be sent via email.
To look up each female, go to DigitalBeef HERE and type in their Tattoo. Make sure you type in "BSG" then the number to bring up the exact heifer.
Thanks for you interest and support of the BSG program.
BRED HEIFERS
TATTOO
SIRE
DAM
SERVICE SIRE
DUE DATE
BSG 2188
GOLDENROD
1244
RONAN
19-Feb
BSG 2203
RONAN
BSG 2020
TAYLOR MADE
19-Feb
BSG 222Z
TAYLOR MADE
BSG 1946
RONAN
19-Feb
BSG 2237
SOGGY DOG
0B39
RONAN
19-Feb
BSG 2262
RUSHMORE
BSG 1914
RONAN
19-Feb
BSG 2267
MARQUIS 127X
LASSIE 2024
RONAN
28-Mar
BSG 2287
TAYLOR MADE
LASSIE 2024
RONAN
19-Feb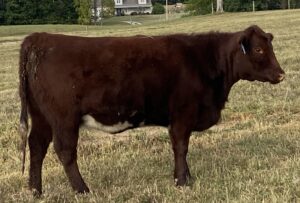 ^Photo: BSG 222Z