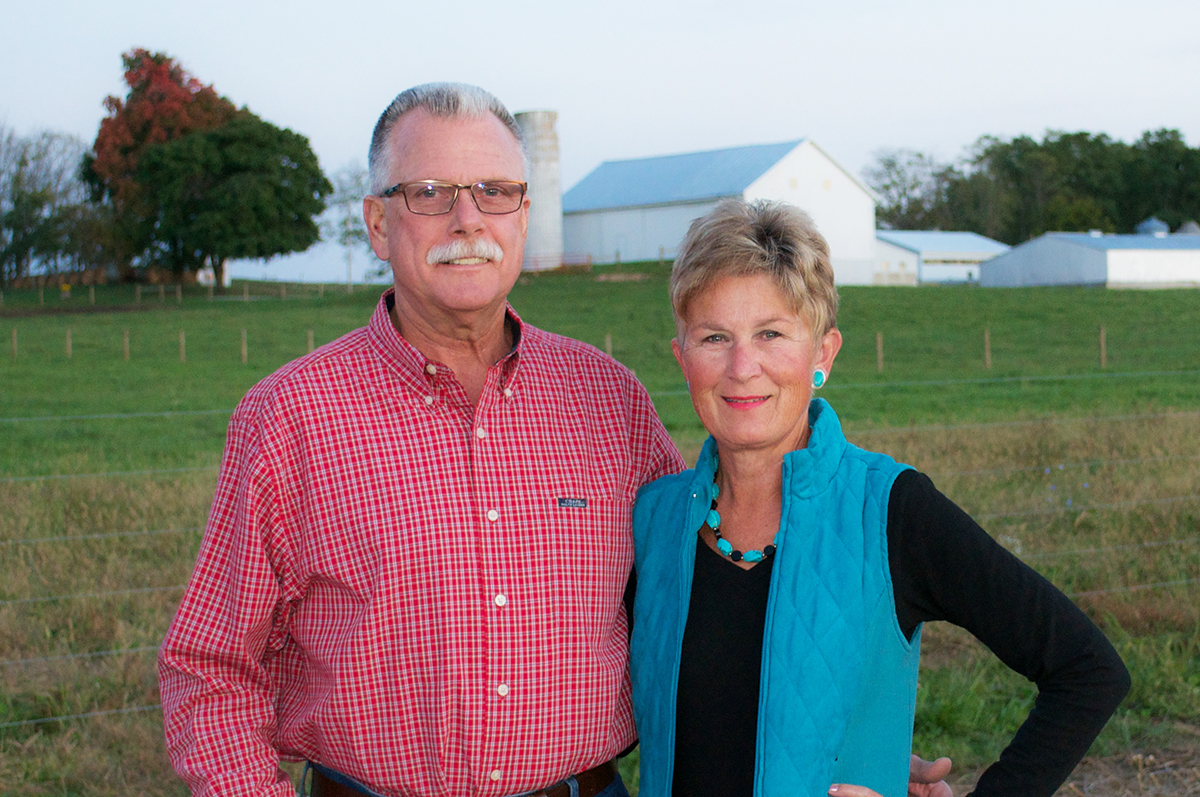 Phil and Linda Bowman
Beginning in the fall of 1994, Bowman Superior Genetics has never been one to follow the crowd. Nearly twenty years later, the Bowmans still recognize that what is trendy may not always be the best for the successful longevity of the Shorthorn breed and in return, the beef business. Good cattle that have the form to function are always in style.
The goal of the Phillip Bowman Family is to consistently produce cattle that excel in the breed's greatest strength; maternal ability. Working hard to produce maternally excellent females that annually perform for cattlemen across North America, Bowman Superior Genetics takes great pride in the quality genetics that come from their operation.
Located in the heart of Shorthorn country, Bowman ranch is easy to locate. Stop by for the afternoon. They'll sure be glad to show you around and walk you through a set of cattle that they're proud to have developed.
Practical Ideas.  Practical Cattle.
These two simple statements above define what goes on in this eastern Indiana Shorthorn herd; a herd that was once only a dream of mine.  In an honest attempt to bring beef Shorthorns back into the mainstream marketplace for logical production, this Shorthorn herd has gone from three original cows from Wonder View Farms in 1994, to well over 100 producing females, today.
Beginning as an intense junior program while the kids were young, we were fortunate to exhibit on a national scale and receive All-American honors.  However, like always, the kids grew and the show halters were hung up in the barn leading us to focus more on the cow herd than ever before.  The box stalls became calving pens, and the show cattle runs became donor lots and bull facilities.
As we started traveling across the USA and Canada, we began to learn more about what production oriented Shorthorn genetics can do to the industry.  We viewed this as a challenge and more importantly, a responsibility to produce exactly that: The model Shorthorn Cow.  The need for maternal heterosis through a British-based breed has never been more important to the industry than it is today.
With the price of cattle these days, it is becoming much easier to cull the higher maintenance females, in turn causing cow numbers to decline.  Additionally, as the next generation decides whether or not to return to the farm, it's important to prove to them that they can be profitable with the cattle that they raise.  Perhaps equally important is ensuring that they enjoy the cattle by producing docile, low maintenance breeding stock that have calving ease, fleshing ability, attractive appearance, and even aesthetic value.  Everyday single day, BSG works towards these qualities.
These ideas have allowed us to develop a program utilizing superior genetics from some of the world's best programs to generate a Shorthorn bull battery unlike any you will find- not only in Indiana, but throughout the North American continent.
What began as a dream decades ago, has transformed into a successful program that we are happy to share with you as we strive to bring you the highest quality Shorthorn breeding stock available.  Stop by anytime and look over what we're proud to offer.
We are a family operation and we're passionately working to improve the production, promotion, and longevity of the Shorthorn breed.
Welcome to Bowman Superior Genetics.
-Phillip Bowman