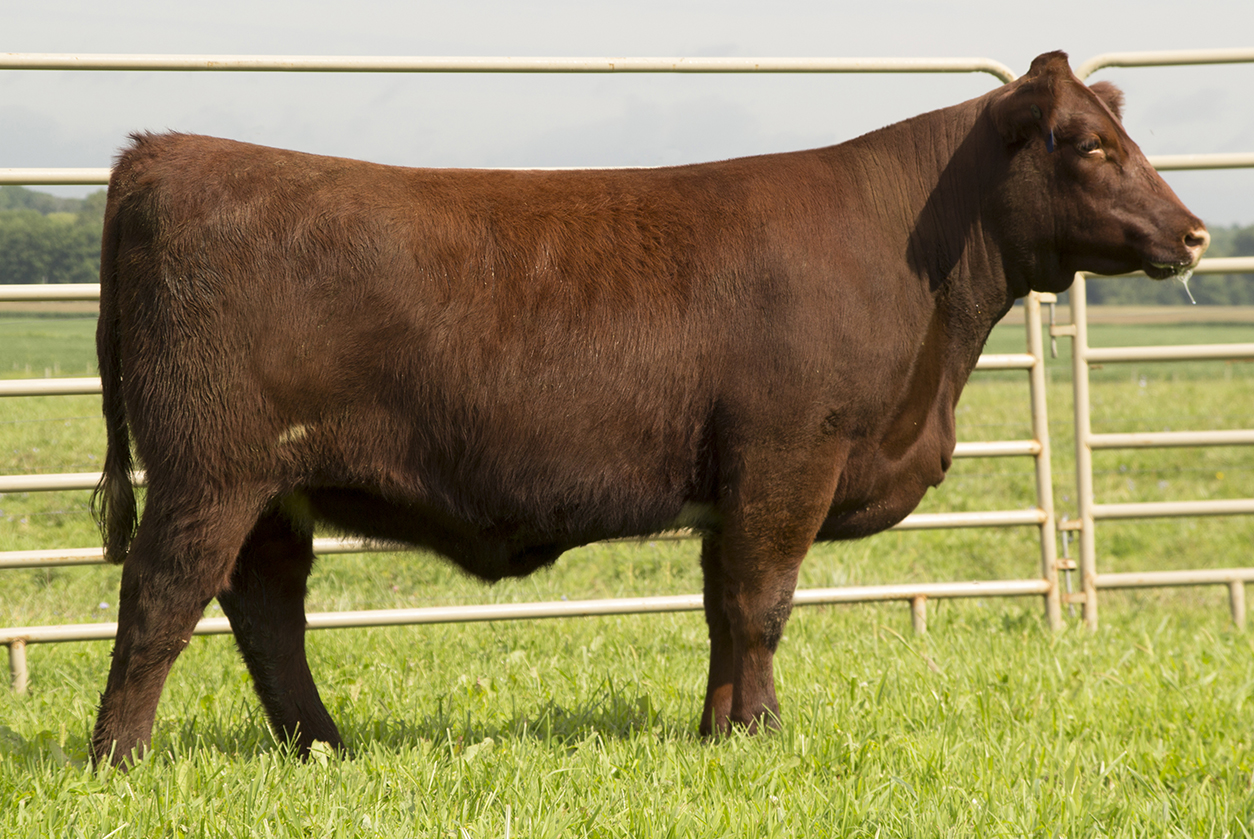 Breed Shorthorn
Reg Number 4322134
Tattoo BSG 2120
D.O.B. 3/1/2021
SASKVALLEY TRADITION 106T
MURIDALE THERMAL ENERGY 15A
MURIDALE GOOSE 32R
BSG STARRETT 1537
BSG DOTTIE 1766 OF 1537
ALTA CEDAR DOTTIE 29X
BSG Dottie 2120 of 15A is rare bird in the beef Shorthorn business. Who says maternal cattle can't be breed leaders for carcass excellence? Visually, this female is so wide pinned and broad hipped and she maintains that advantage forward down her top and keeps it at the center portion of her skeleton and all the way to the ground.
One scan of her digitalbeef.com profile proves you can have it all. From visual style and three-dimensional body design to cow family, to her actual performance information, we couldn't be more excited than we are with Dottie 2120. And she walks the talk. Her performance ratios prove she can flat get it done: 117@WW, 112@YW, 111@REA and 136@IMF.
Braiding the western Canadian Myrtle 83N & Goose 32R cow families on the top side of her pedigree with the globally famous Dottie tribe, added with our American cow line known for extreme longevity—the the Rosewood lineage—all take cow family greatness to extreme significance. BSG Dottie 2120's granddam Dottie 29X was an import from Alberta after being developed in the historic Alta Cedar program. Many breeders across the Shorthorn spectrum have had great success with their Dottie's and so have we as evidenced with Dottie 2120. The dam of Dottie 2120, BSG Dottie 1766, was Wes Wise's pick of our herd in 2018, so the phenotypic quality is certainly generational. BSG Dottie 2120 represents the next generation of female greatness in Greens Fork, America. Never before has a female been so destined for the donor pen in our program.
Leveldale Rhinestone 458B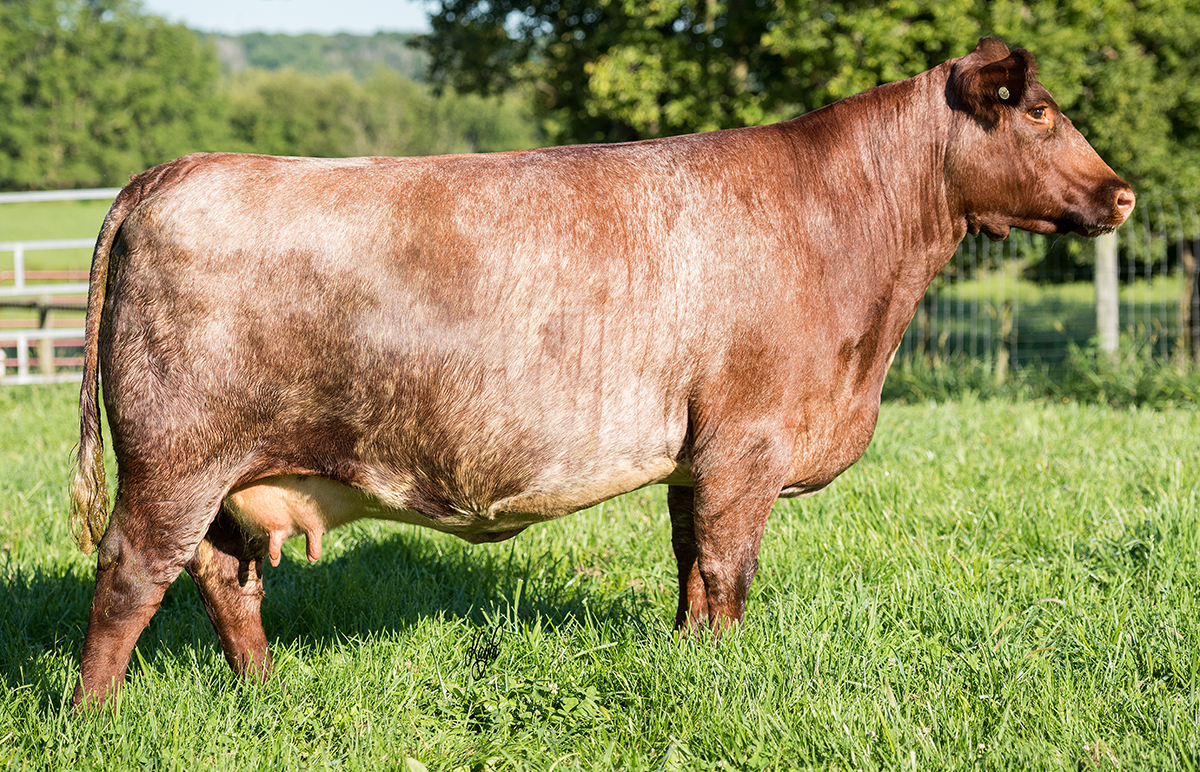 Breed Shorthorn
Reg Number 4212328
Tattoo 458B
D.O.B. 4/3/14
JSF PRINCE OF JAZZ 12W
LEVELDALE PLAYER 249Z
LEVELDALE POLLY 838U
JSF MAESTRO 35U
JSF RHINESTONE 159Y
JSF RHINESTONE 83T
Rarely does one come across a cow so balanced and well-rounded in EVERY SINGLE category for donor-pen analysis, but 458B hit nearly every single target on the bullseye. Phenotype, Outcross Pedigree, Unmatched & Proven Production Record, EPDs, $Value Indexes, Fleshing Ability, Color, Docility; you name it and 458B gets an 'A' every time. The dam of our power sire, RUSHMORE, 458B is writing her own chapter in Shorthorn history quietly. Watch for more progeny at BSG and Spry's in Australia.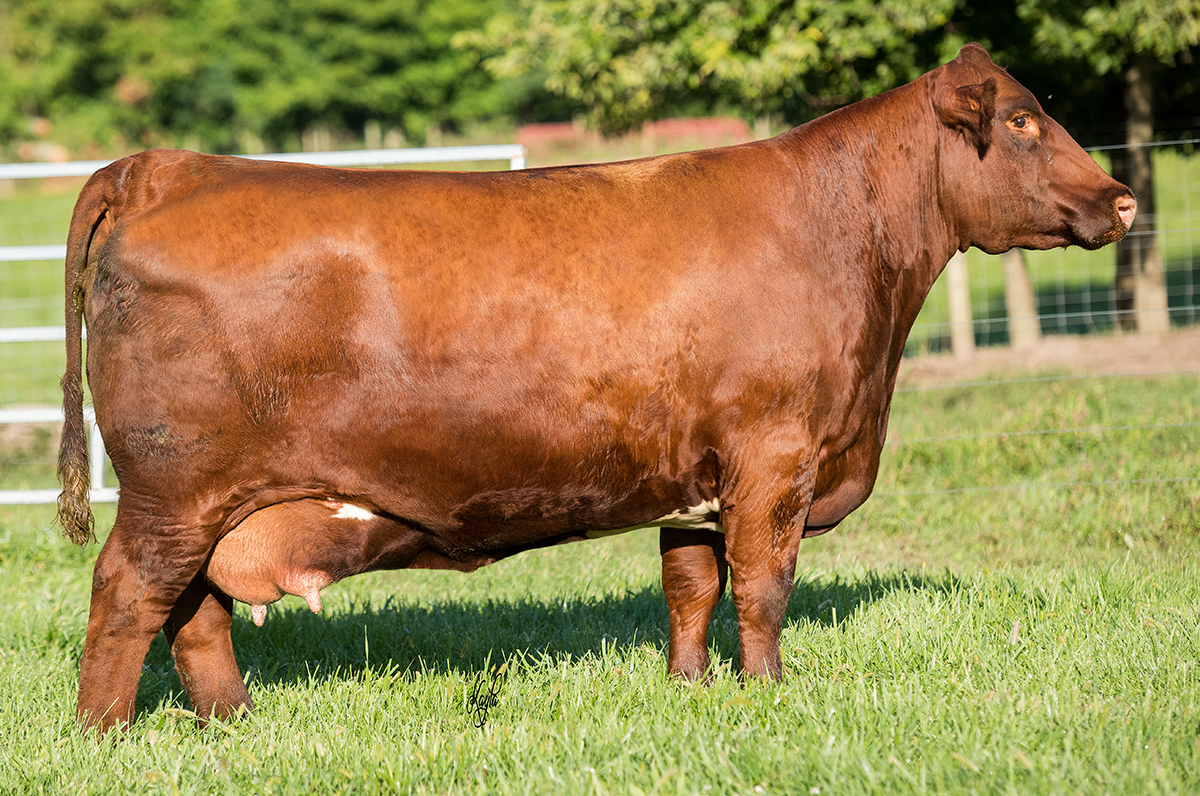 Breed Shorthorn
Reg Number 4189979
Tattoo 2024
D.O.B. 1/29/12
WAUKARU GOLD SHIP
WAUKARU GOLD CARD 5042
WAUKARU COLONIAL NAN 233
HOMEPLACE DUTY
WAUKARU LASSIE 9169
WAUAKRU LASSIE 7094
The day we came across 2024 in the pasture at Rensselaer, I whispered to Phil, "Game Over." I have never seen a Shorthorn cow in the flesh as impressive as 2024. Ever. The true Power Cow of the American Shorthorn population today, and one of the most unique performance females of the entire 20 million head in the IGS Multi-breed Genetic Evaluation. This is why we don't just flush her Shorthorn, but to bulls of other breeds as well; her genetic value is of interest of anyone wanting to maximize the profit of beef seedstock, regardless of breed. Think of everything a Power Cow should look like and 2024 does it; stout-boned, huge-hipped, massive barrel, but also jerk-fronted and feminine. Some of the wisest stockmen we know have invested in 2024, that's why you can find her influence nation-wide in the USA, up in Canada, over in Europe, and down in Australia. She is getting up there in age, inquire early about her influence, and don't be afraid to reap the benefits of her ShorthornPlus contribution.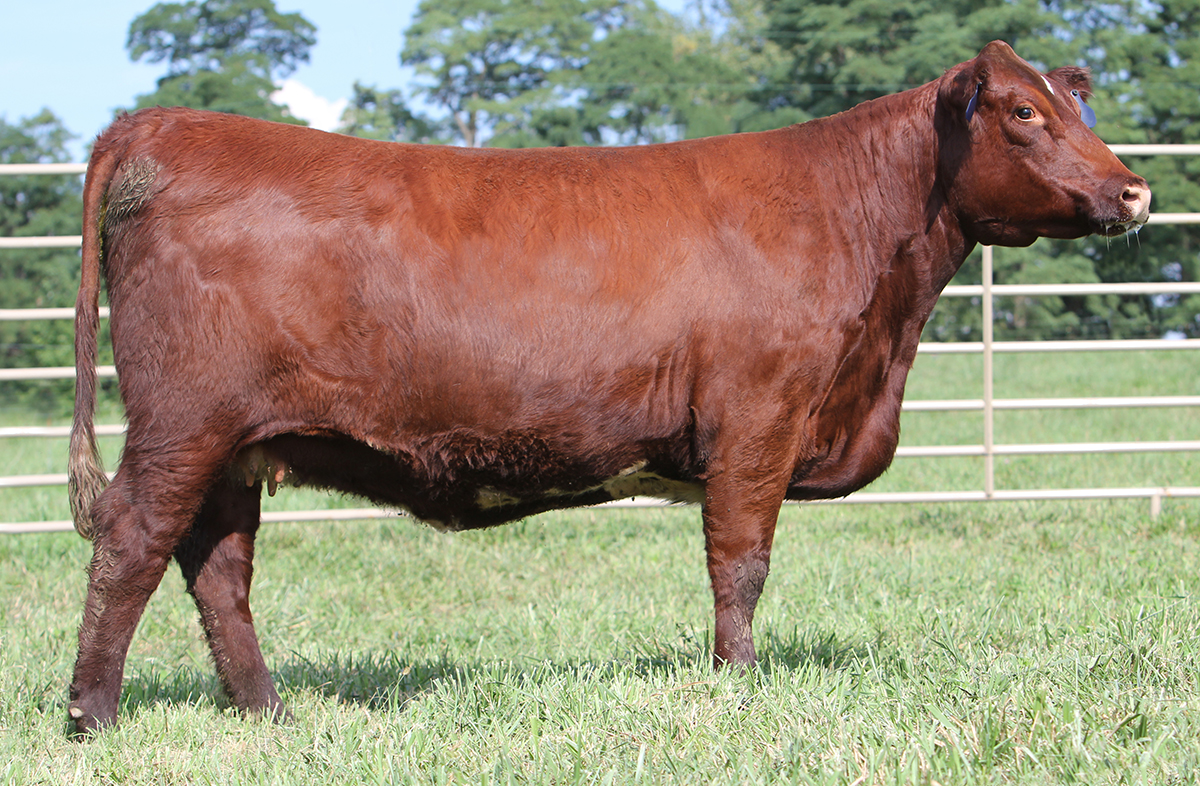 Breed Shorthorn
Reg Number 4185156
Tattoo 1244
D.O.B. 3/30/12
SASKVALLEY ULTRA 12J
SASKVALLEY STAMPEDE 128S
SASKVALLEY DORA 70N
RHF MERGER ET
BSG SYLVIA 113 MGR X
BF ROSEWOOD SYLVIA KR43
Owned with Schafer Angus Ranch, Orland, CA. 1244 has always been at the forefront in our eyes as one of the really good daughters produced by Stampede. Being a Rosewood, she has Stayability built in; that cow family has been in the herd for all 25+ years we have had the Shorthorns. She is the dam of the great BSG Stayability at Leveldale who produced some of Les' high $Value brood cows in his time. After beef quality? This cow is a genetic freak for Marbling, being one of the breeds very best. You can find progeny from Indiana to Iowa to California. Look in if you want to add quality look, brood cow design and carcass merit to your program.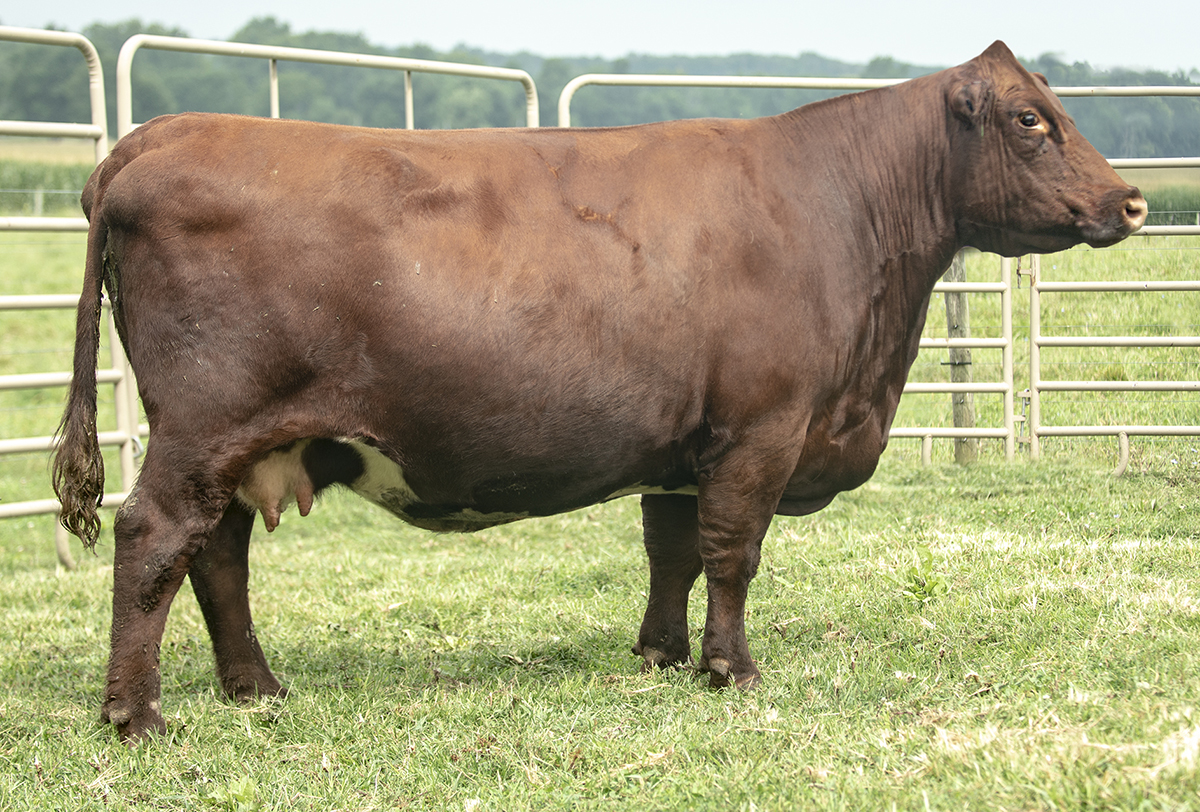 Breed Shorthorn
Reg Number 4212523
Tattoo 441B
D.O.B. 3/14/14
DRC 29M6
DRC 101VM
DRC 0114CH
DRC176K2
DRC7119KL
DRC73F1
Owned with Y Lazy Y Shorthorns, Corvallis, MT. If you're looking pounds in the right package, you have come to the right place. So moderate in scale and frame but still ranks in the Top 1% for both WW & YW. Talk about fleshing ability, 441B and her progeny can get fat off of air and water! She has been the pick of many visitors over the years, and because of her daughters has recently entered the donor program.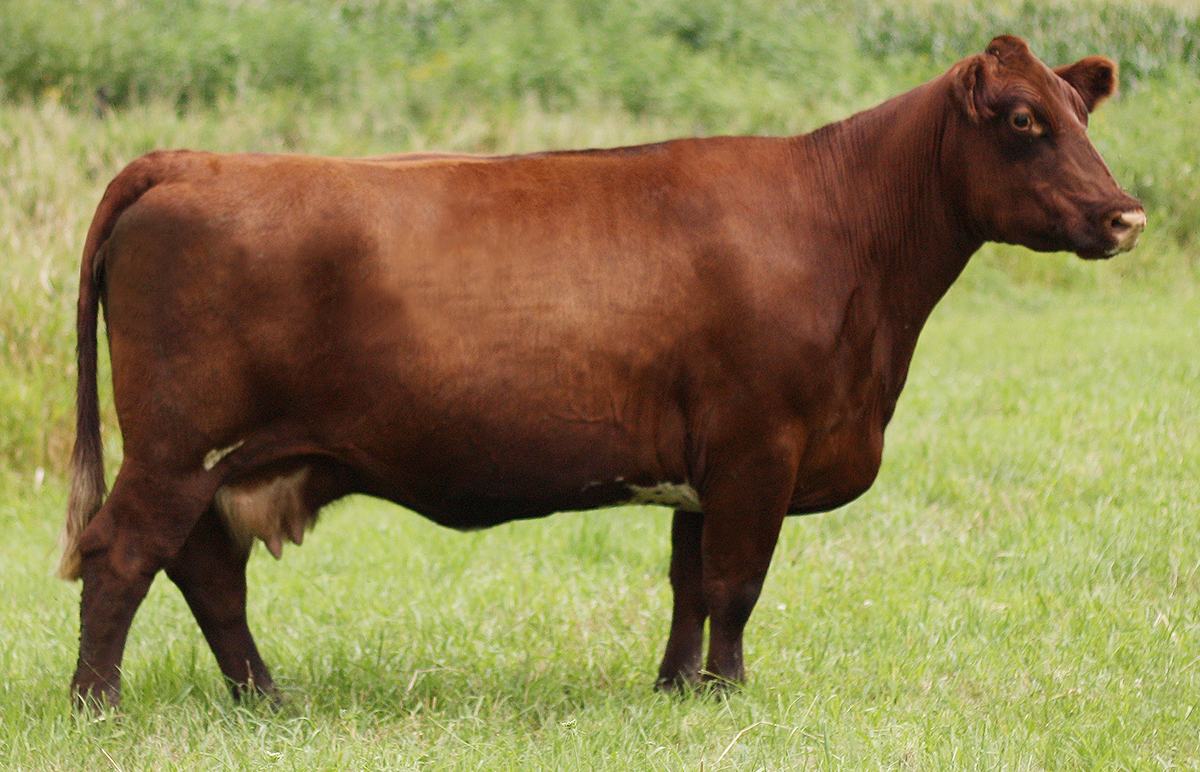 Breed Shorthorn
Reg Number 4139037
Tattoo 42U
D.O.B. 4/4/08
EIONMOR MARQUIS 86G
SCHMIDT'S SOUL TRAIN
SHERWOOD SUNRISE 423P
ARMSTRONG BIG LEAGUE 0A063
DSF COUNTRY DANCER 24P
COUNTRY DANCER
Here is a cow that needs little introduction as she can be found in hundreds of pedigrees nation-wide. 42U is the dam is the famous Taylor Made who has left a mark of calving ease and quality cows at the herds of Leveldale, BSG, Byland, & Peak View and who is the sire of numerous great ones, including Leveldale Boardwalk at Cates Farms, Shadybrook & Hill Haven. Still going at 13 years of age, this high ranking, profit generating, leading $Value Index cow puts so many good things together and there are always maternal sibs to Taylor Made available.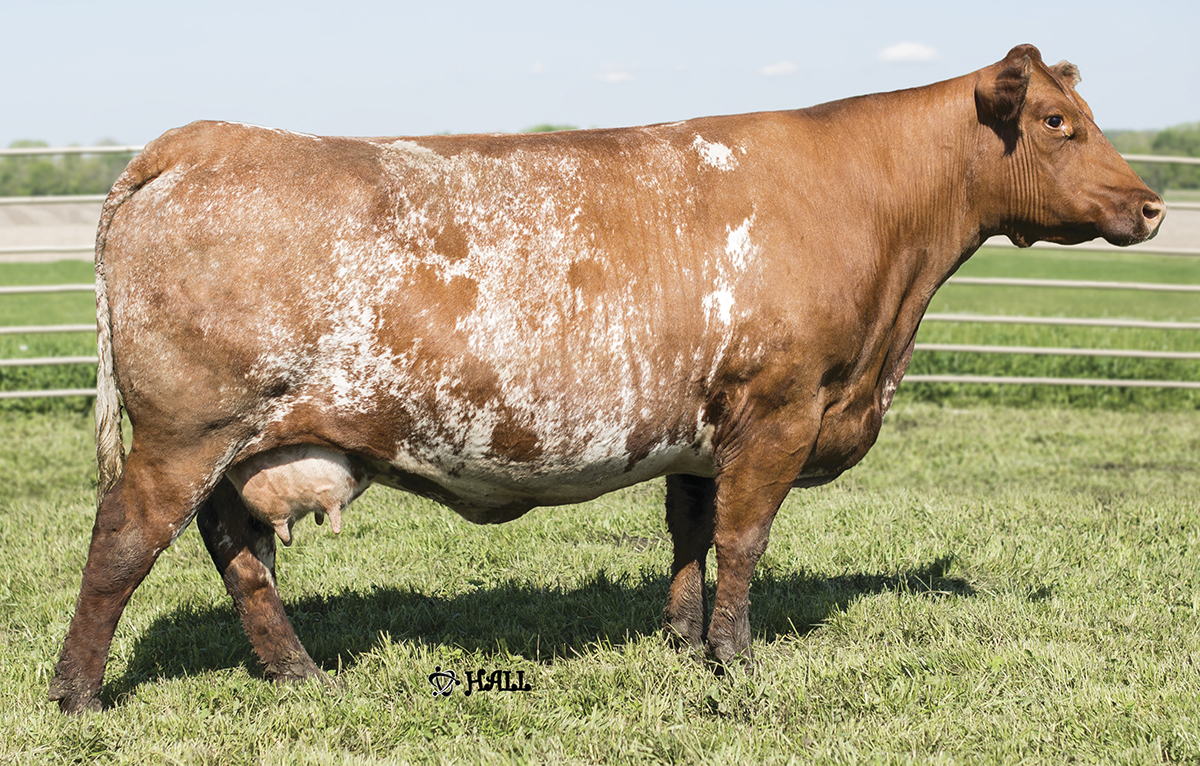 Breed Shorthorn
Reg Number 4210094
Tattoo AEN 73R
D.O.B. 4/28/05
MURIDALE BUSTER 14K
MURIDALE MASTER 24M
MURIDALE DOLLY 25G
ALTA CEDAR ULTIMATE 8J
SASKVALLEY MAGGIE 256M
SASKVALLEY MAGGIE 89H
"The Dam of Great Sires" as Dr. Bert Moore put it. 73R's story is best told through her sons like Task Force, Banjo, Mapleton Earl, Profitwise, Maximus, Wise's Great Plains and others around the country. A cow that looked like a $Million every time you turned around and produced the high profit kind. A diverse portfolio of production, her son Task Force still ranks of as one of the breed's Trait Leaders for Calving Ease and Profitwise maintains as a Trait Leader for Weaning Weight, while both being extraordinarily high for $British Maternal Index. She had it all, and we miss her roaming the hills in east-central Indiana. Few embryos left, but some still available.