Gilman's Liberty Valance 25J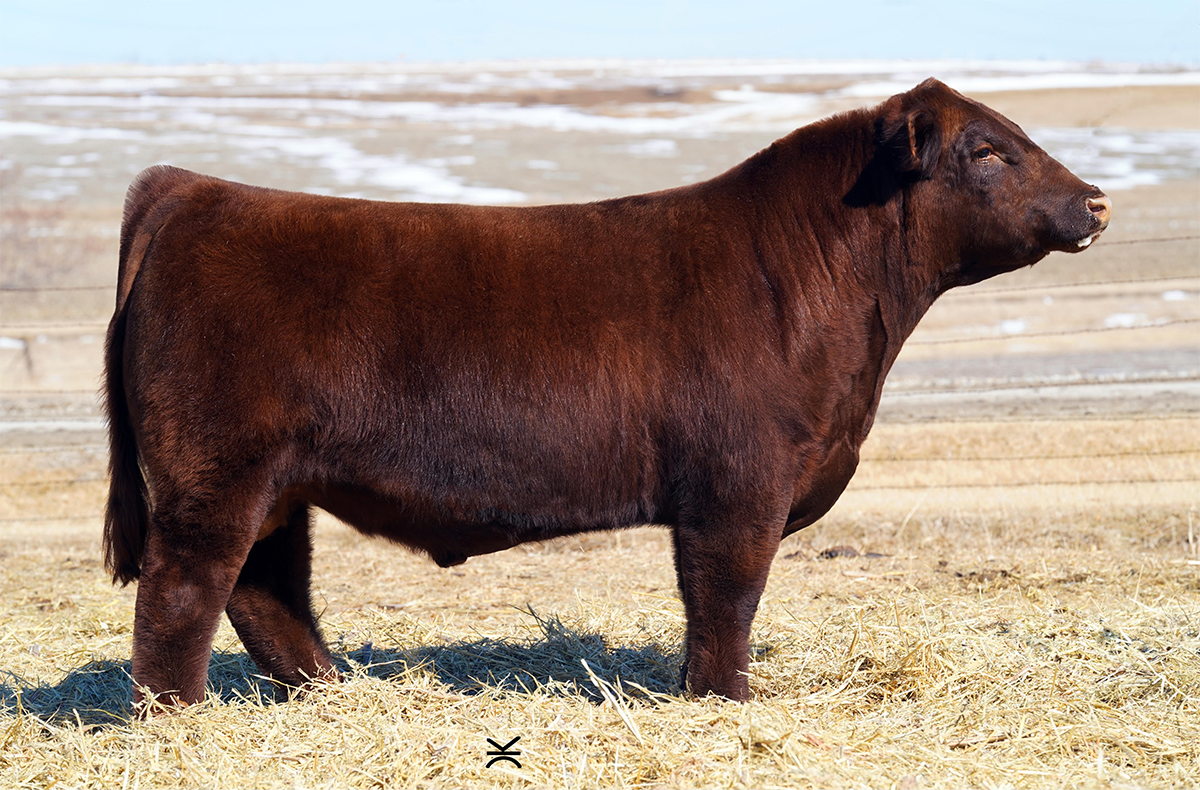 Breed
Shorthorn (7/8)
Reg Number
AR4317661
Tattoo
25J
D.O.B.
2/20/2021
Leveldale Boardwalk 530C
Leveldale Cowboy Up 820F
Leveldale Cassandra 019X
Gilman's Envied 448B
Gilman's Durham 5F
Gilman's Durham 320A
A mid-5 frame, wide-hipped, deep quartered, big volumed, stout legged creature with a striking & flawless profile, plus an outcross pedigree to all popular sire lines today. But dig deeper than what's on the surface… Afterall, it's not just about what they look like, but what their resumé tells us their progeny can do…
Liberty Valance is unmatched in the American, Canadian & Australian databases as the ONLY Shorthorn animal, 1) purebred or percentage, 2) parent or non-parent, 3) active or deceased, at his superior levels of traits of greatest economic significance; STAY, CED & MARB, combined with commanding pound-adding projections ranking in the Top 5% or higher. His modest Birth weight (87 lbs), scale crushing performance at Weaning (WR@106) and Yearling (YR@107) combined with an astonishing 157 IMF ratio, proved this genomic outlier is on a trajectory to legendary status.
Further, of the 2021-born bulls offered at live auction that rank amongst his heights for the profit value indexes of the greatest impact to the value chains of money-making daughters ($BMI) and Shorthorn beef ($F), ZERO match his Stayability, and NONE are backed by pedigrees (Sire & MGS) as full of dependable performance data via real progeny proof as this superstar.
No accident – it's performance you can trust and bloodlines you can believe in.
If we all want to grow in making more Shorthorns industry relevant and entice the sophisticated commercial cattleman to invest, driving up the demand and therefore the price of Shorthorn bulls, it's studs like Liberty Valance that we will have to lean into. A once in a lifetime sire, we are proud he will roam the pastures of Greens Fork. BSG was lucky to grab the winning bid and we are humbled from learning all the names of aristocracy who also pursued this new age Durham. That tells us all the keen stockmen found him too. Knowing this, we are not keeping this consummation of genetic progress exclusive.
Semen for sale. Contact Phillip.
JSF RONAN 5H
Breed
Shorthorn
Reg Number
4314080
Tattoo
5H
D.O.B.
02-09-2020
JAKE'S SULTAN OF JAZZ 213S
JAKE'S REINCARNATION 228Y
JAKE'S TIARA 217T
SASKVALLEY OUTLAW 173Z
JSF ROAN ROSE 36F
JSF GOLD ROSE 100C ET
The new exciting outcross Calving Ease, Cowmaker on the scene in the Fall of 2021. RONAN, is an extremely thick, deep bodied, stout-boned king of structural soundness with an exceptionally Low BW of 72 lbs. He has a perfectly usable pedigree on the new age Starburst, Bonanza, Hot Commodity, Red Reward and Fire Storm bloodlines. His dam is a stunning, up and coming superstar at JSF in North Dakota out of their highest revenue cow family. His Maternal Value ($BMI) promises elite, long-lasting, easy fleshing, valuable daughters with plenty of milk. Want to make show steers? – Look in, create your own Bred & Owned Champion with Ronan's real muscle shape and super thick shag.
TH – Free PHA – Free DS – Free
---
BSG Profitwise 1767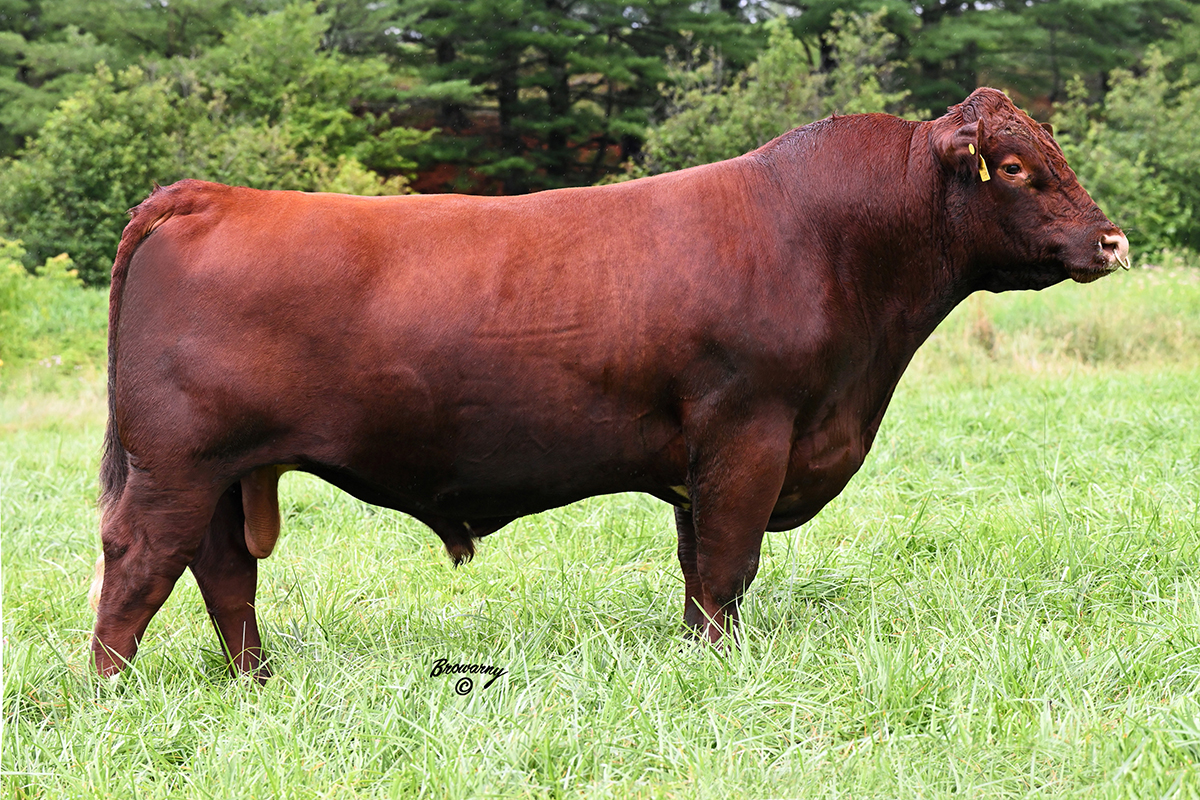 Breed
Shorthorn
Reg Number
4272032
Tattoo
BSG 1767
D.O.B.
11/1/17
Saskvalley Tradition 106T
Muridale Thermal Energy 15A
Muridale Goose 32R
Muridale Master 24M
Saskvalley Maggie 73R
Saskvalley Maggie 256M
DNA Tested Homozygous Polled
High Seller of the 2018 BSG Form To Function Sale at $45,000 to Shadybrook Shorthorns, West Brome, Quebec.
Recognized by many of the breeds greatest stockmen as the right bull for the breed today, and as unique a sire as they've seen in decades.
Masculine made, heavy muscled, with a huge gauge of rib shape and body depth.
Balanced in his design, he can reach and stride with the best on halter.
A rare genomic standout, PROFITWISE boasts a genetic profile unmatched for being a curve bender in production, maternal and carcass traits, while being elite for $Value Indexes.
---
Leveldale Rushmore 864F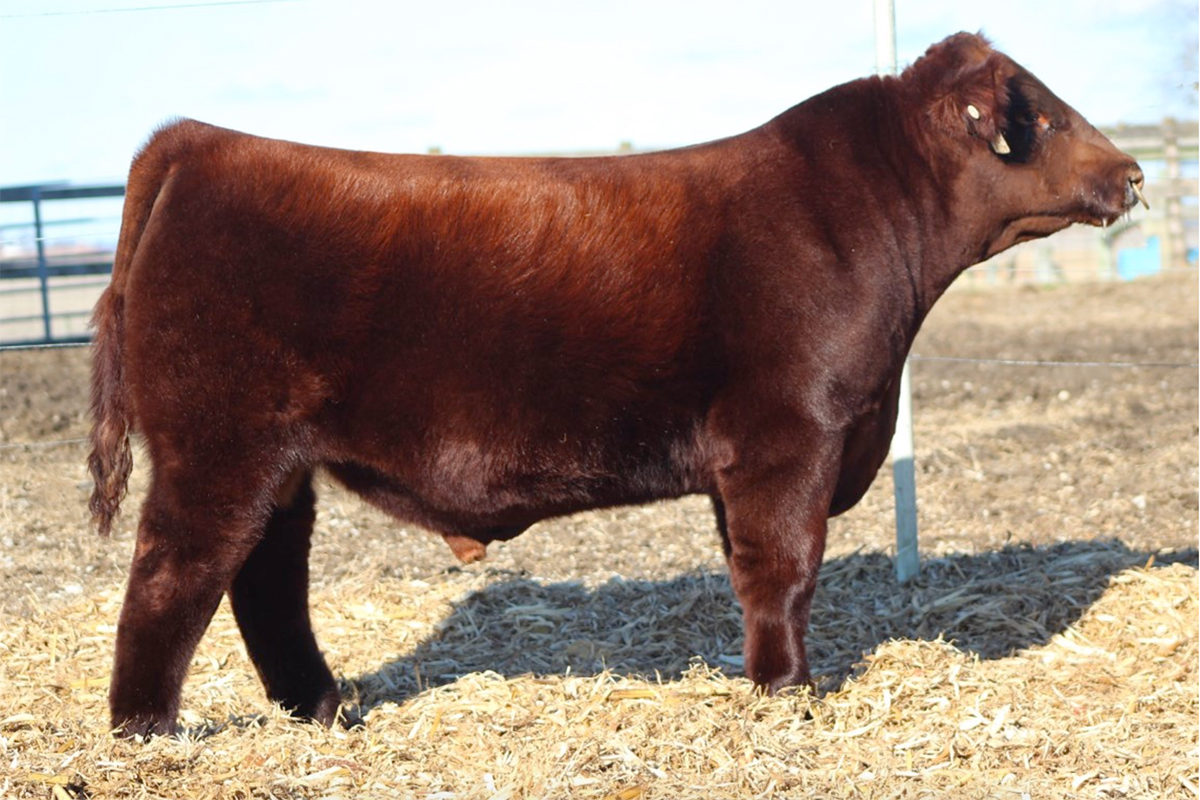 Breed
Shorthorn
Reg Number
4273393
Tattoo
864F
D.O.B.
3/12/18

Muridale Jaxson 4A
Leveldale Reload 660D ET
Leveldale Rosewood 809U
Leveldale Player 249Z
Leveldale Rhinestone 458B
JSF Rhinestone 159Y
Selected for his big square hip, stunning style and structural integrity
Phenomenal data – impressive for his growth, carcass and $Index combinations
Dam is a moderate statured, big bodied production cow with incredible production records
Use to inject showring look with data to make the most critical commercial man proud
---
Byland Big Board 7WS79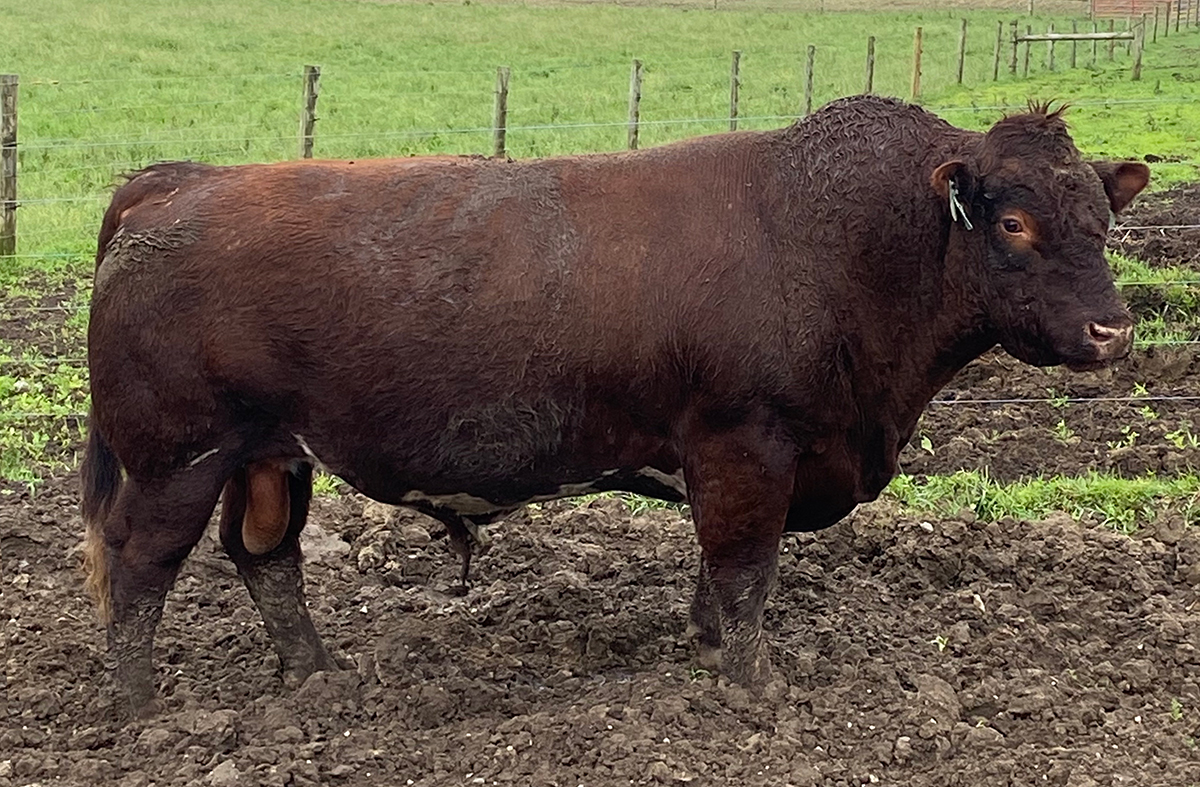 Breed
Shorthorn
Reg Number
4267843
Tattoo
8B79
D.O.B.
3/20/18
Saskvalley Tradition 106T
JSF Wall Street 106C
KL Gold Rose
JSF Reload 32T
Byland Augusta 2R103
Byland Augusta 2E115
Dimensional is defined as: measurement in length, width and thickness; 3 dimensional best describes Big Board
Tremendous yearling performance data against a tough contemporary class; BW@105 ratio (75 lbs. actual), WW@106, YW@108, REA@104
Used to add rib & flank, body length and bulgy muscle shape
Dam is our favorite cow in the legendary Byland herd
---
Muridale Thermal Energy 15A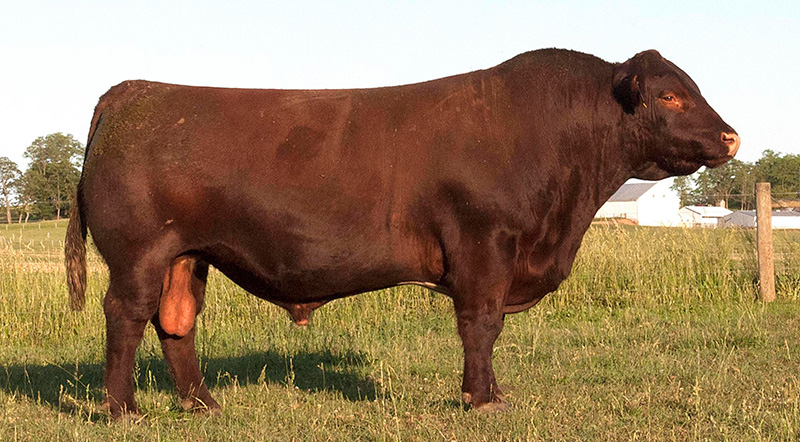 Breed
Shorthorn
Reg Number
4218103
Tattoo
BSX 15A
D.O.B.
3/27/13
Saskvalley Roughneck 154R
Saskvalley Tradition 106T
Saskvalley Myrtle 83N
Saskvalley Bonanza 219M
Muridale Goose 32R
Muridale Swan 54N
DNA tested Homozygous Polled
An Exceptional Sire of Phenotypic Design and Muscular Shape
Outstanding Birth to Yearling Spread Sire with Perfect Feet
Use to improve all production and carcass traits while simotaneouly increasing fleshing ability
Ranks High for All $Value Economic Indexes
A HUGE Hit in Australia; the Featured High Sellers at Spry's are Thermal Energy progeny
---
Saskvalley Banjo 268B
Breed
Shorthorn
Reg Number
4256469
Tattoo
AEN 268B
D.O.B.
5/19/14
Saskvalley Clyde 12E
Saskvalley Ultra 12J
Saskvalley Lily 170F
Muridale Master 24M
Saskvalley Maggie 73R
Saskvalley Maggie 256M
Maybe the Most Exciting of All of the Great 73R Sons out there
Half Brother to Task Force, Keeping the Tradition of Exceptional Calving Ease
Got Spots? Use this bull to get rid of Spots and White Legs
The Model Outline of Today's Pursued Shorthorn
Use to Moderate Frame, Increase Rib Depth and Expansion
---
Studer's Taylor Made 7Y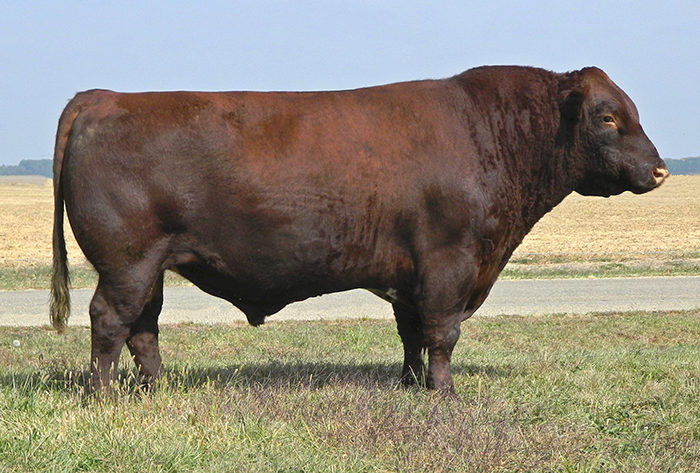 Breed
Shorthorn
Reg Number
4176051
Tattoo
7Y
D.O.B.
2/1/11
Muridale Master 24M
Saskvalley Ramrod 155R
Saskvalley Darling 70M
Schmidt's Soul Train
DSF Country Dancer 42U
DSF Country Dancer 24P
A Genomically Elite Superstar; DNA testing gave him a Qualtum Leap on Maternal Value
Taylor Made is in Rare Air for his ability to be so good at BW and Calving Ease, while also siring Heavy Muscled and Large CW progeny
Significantly Better than his Famous Sire for both Calving Ease and Muscle; A Super Useful Ramrod for any operation
His Dam is one of our Finest Cows. She is Right by Design
---
Saskvalley Task Force 105T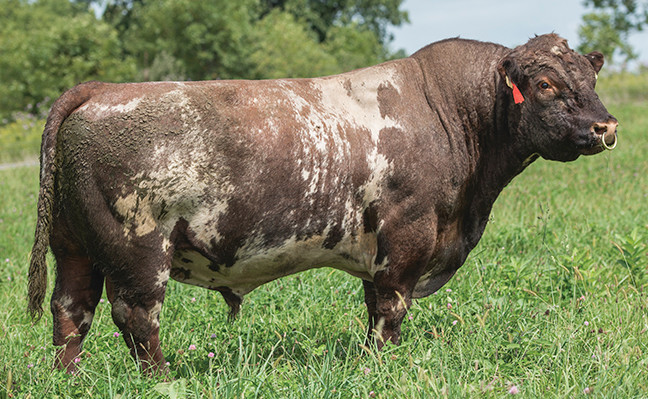 Breed
Shorthorn
Reg Number
4161515
Tattoo
AEN 105T
D.O.B.
5/1/07
Saskvalley Navajo 153M
Saskvalley Ripper 260R
Saskvalley Marianne 184H
Muridale Master 24M
Saskvalley Maggie 73R
Saskvalley Maggie 256M
Another great Sire of Influence from the Great 'Maggie 73R'
Few Sires of Any Breed Dominated their Population by Staying at the Top both Before and After Single-Step EPDs
Proves Time and Time Again, that 'Maternal' is an Action, an Ability
Top 5% or Better for CED, BW, CEM, STAY, $BMI
Use the Right "Task Force" to fix the Calving and Maternal Issues in Your Herd Today
Continually used by A.I. at BSG; Soon he will be in every BSG pedigree at least once
---
Coalpit Creek Leader 6th ET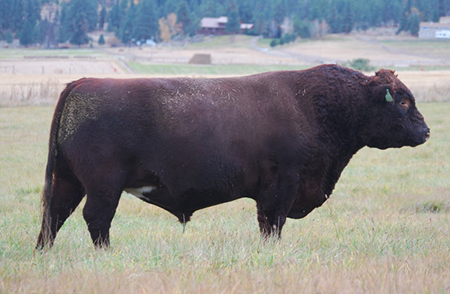 Breed
Shorthorn
Reg Number
4147644
Tattoo
21U
D.O.B.
9/2/08
TPS Coronet Leader 21st
Kinnaber Leader 6th
Butte Lee Fairy 7th
HHFS Dream Weaver
HHFS Impossible Dream
Homedale Stella V
Bovine Truth Serum (DNA) proves "EZ" is a King Cowmaker
Genetics are in Great Demand for transmitting his unbeleievable Calving Ease, Stayability, Marbling and $BMI (Top 3% or better for each)
As Deep-Flanked and Soggy-Made as any Sire Ever Used in Greens Fork
Daughters are Early Maturing but Highly Fertile Brood Matrons
---
– HISTORIC SIRES –